A one-day photo and video documentation workshop were organized in Jabalpur on August 29, 2022, in collaboration with Nagrik Adhikar Manch. The workshop was attended by 20 young participants who work with different communities, construction workers, domestic workers, beedi workers, etc. at the grassroots level.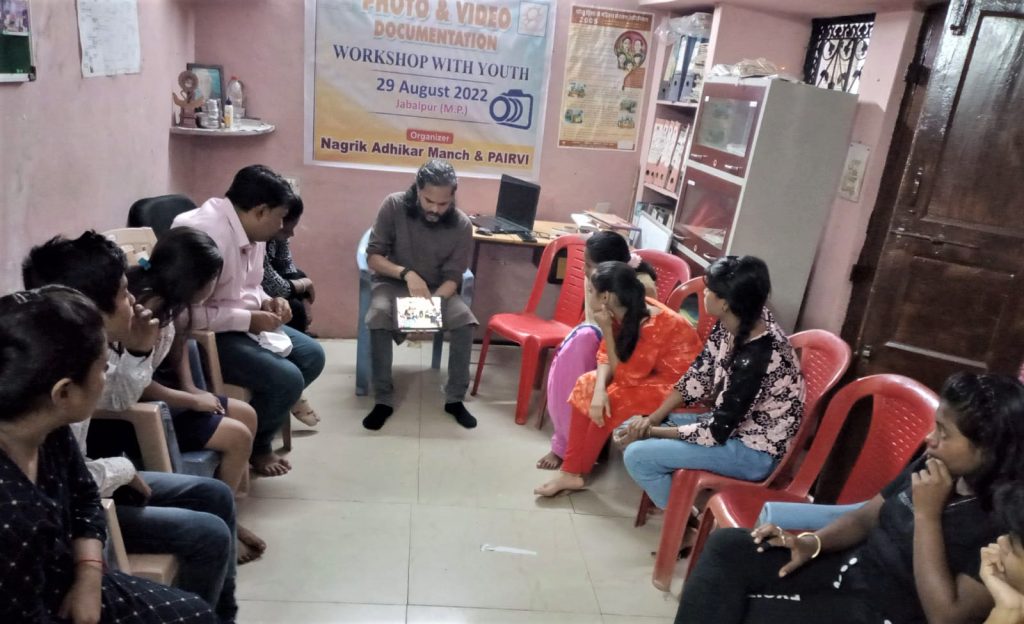 In today's time, photos and videos have become an essential part of documentation, but it is challenging for ground workers working with limited resources to buy good quality expensive photo and video cameras, on the other hand, smartphones with cameras are available to almost everyone today, so this workshop was mainly focused on smartphone / mobile photography and videography. On behalf of PAIRVI, Rajneesh Srivastava guided the participants on basic information related to photography and various aspects of mobile photography, and resolved the questions of the participants in this interactive workshop.
The workshop started with taking information about the problems faced while taking photos and videos from mobile. While sharing photos taken by the participants on various occasions, shortcomings were identified in them and they were discussed with the participants. It was revealed in the discussion that most of the participants are not aware of the basic principles of photography nor the functions of the camera and software present in their phones, due to which they face problems like focus, exposure, angle, frame, blur, reflection in photography and the photos are spoiled. In the next step, participants were given information about the fundamentals of photography and explained what is the cause of the problems in the presented photos and how they can be overcome. Along with this, an experimental practice of the fundamentals of photography was also conducted while giving information about the cameras and functions present on the mobile of the participants.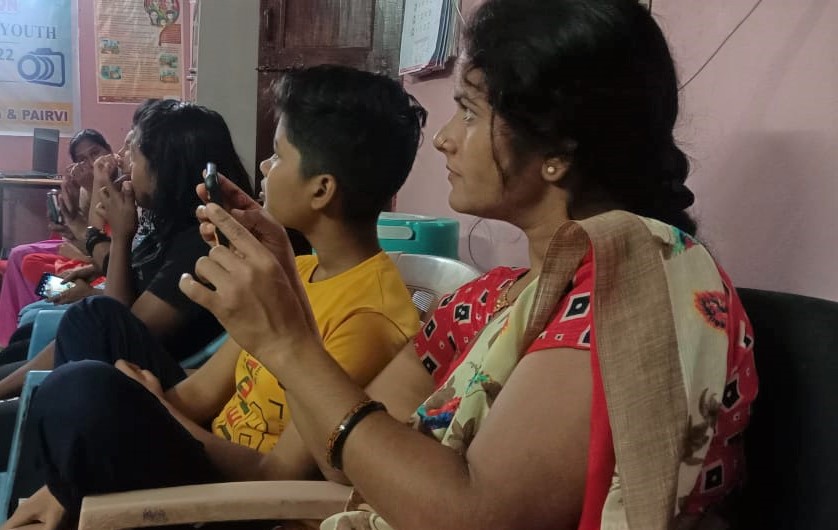 Since the workshop also had a purpose of documentation, the participants were also introduced to the precautions to be taken while clicking photos or making videos from a documentation point of view. During the workshop, the participants presented their questions and suggestions related to mobile photography documentation which were discussed. At the end of the workshop Shivakumar Chaudhary from Nagrik Adhikar Manch thanked the participants and the organizers.
An experimental exercise was also scheduled in the field with all the participants of the workshop but it could not be possible due to the high rain that started during the workshop. However, the next day, on August 30, during a meeting with beedi workers, some participants joined and conducted an experimental exercise of the training taken in the workshop, the results of which were discussed informally.