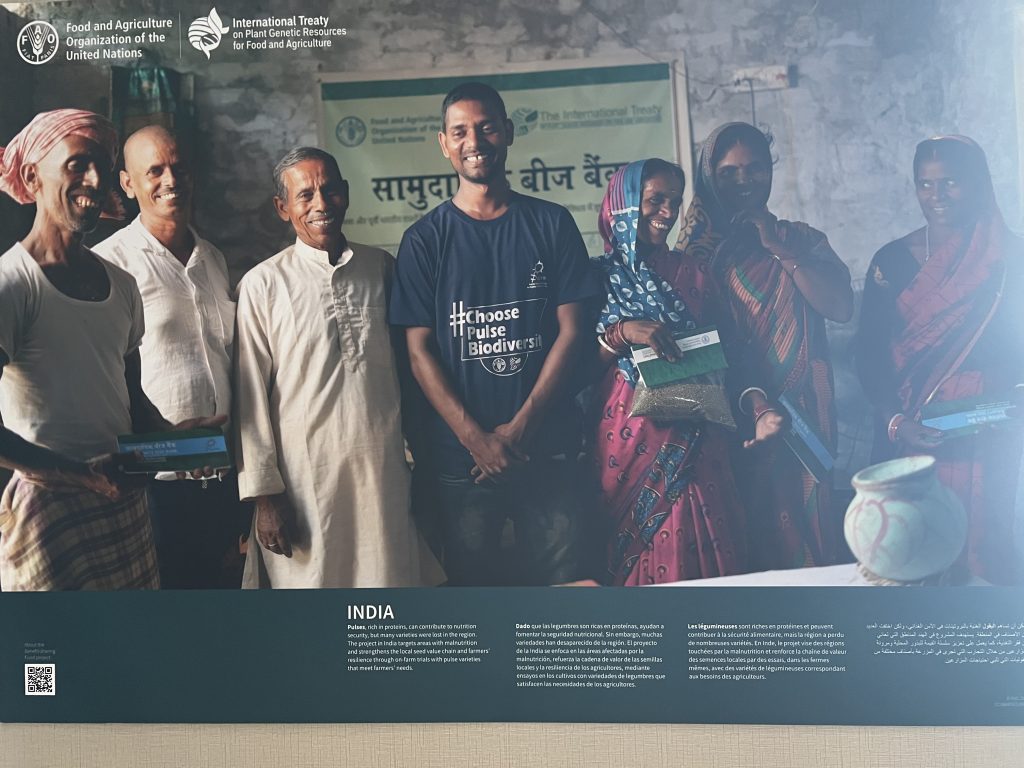 Delhi: PAIRVI project was selected for photoshoot for the exhibition during the FAO/ITPGE GB Meeting to be held in Delhi. Pudi Soren from Deoghar, and one of the participant farmer from PAIRVI project was the main subject of the shoot. The Exhibition was launched on 17th, in which Ajay K Jha provided the opening remarks. this was followed by remarks of Pudi Soren and remarks by project partner delivered by Vikas Arora on 19th Sept.
Speech of Ajay Kumar Jha, Director, PAIRVI at Launch of Exhibition of the FAO/ITPGR during the General Body Meeting 2022, Delhi
Very good morning and welcome to India to all of you.
Many thanks and Congratulations to Govt. of India for organizing the 9th GB in Delhi so that we got an opportunity to talk about our work. PAIRVI (Public Advocacy Initiatives for Rights & Values in India) works on the intersections of development, rights and sustainability. We are also BSF partners and work with around 500 farmers in 5 states Bihar, Jharkhand, Madhya Pradesh, Chhattisgarh and West Bengal in the BSF project which aims at "enhancing pulse and oilseeds diversity in tribal areas in eastern India." Under this project, community seed banks have been set up and seed fairs have been organized in each of the five states. The project activities have resulted in the return of in -situ cultivation (and therefore conservation) of 27 varieties of 14 crops in Jharkhand, 46 varieties of 17 crops in Bihar, 11 varieties of 7 crops in West Bengal and 10 varieties of 4 crops of pulses and oil seeds in Chhattisgarh so far. Some of the major highlights of the project have been that (1) forgotten pulses and oilseeds have been recultivated after 2 decades, (ii) in some of the areas, even famers outside the project are cultivating pulses and The initial plan was to introduce the pulses and oil seeds in the post monsoon (rice fallow) season. But in all the project sites on farm screening has been conducted for 3 seasons – monsoon, late monsoon and post monsoon (rice fallow). the project has helped reintroducing varieties of Pigeon pea, Black gram, Groundnut, Green gram, Kudrum, Cow pea, Ghagra, Horseshoe gram, Gram, Little Pea, Red lentil and oil seeds: White sesame, Black sesame, Red sesame, Niger, Mustard, Linseed and Sunflower successfully seeds back to the farms.
We are happy that one of our farmers, Ms. Pudi Soren was selected for photo and video shoot, which will be featured in the photo exhibition in the inaugural on 19th.
I also represent Farmers major group and in that capacity I work with many UN Agencies processes. We have been observing that proposals like 30/30 Initiative or Nature Based Solution is becoming a buzzword and silver bullet solution everywhere from UNFCCC to UNCCD to UNCBD to Environment, to SDGs. In essence we appreciate and hope that they have transformative potential as far as protecting nature, climate, and biodiversity. However, small farmers, Indigenous peoples and local communities are concerned that this might result in "increased protected land" and they being dispossessed of their lands, and also further degradation of environment and nature. So I would request you to be mindful of this concern and put in strong social and environmental standards.
I thank you.
---
Speech of Ms. Pudi Soren  at GB9 Meeting in Delhi
Johar/Greetings to all.
My name is Pudi Soren. I live in Pahadpur village, Chakai Block in Jamui district of Bihar.
I am very grateful to the Government of India for bringing the meeting of the International Treaty to India, which has made it possible for me to meet personally the people behind the Benefit-sharing Fund project that is supporting my family and the community where I live. I am also grateful to the Secretariat of the International Treaty for inviting me to participate at the opening of the Governing Body Session, which made it possible for me to visit Delhi for the first time. I am very happy that under the benefit-sharing Fund project, my video was made and photographs were taken when I made "mandua cookies/Pithhi," so that we could share our feelings with all of you.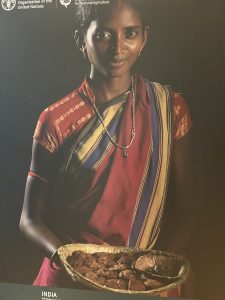 I am 27 years old. I have studied till 8th standard. We have a small piece of land but we could not cultivate earlier as we did not have resources. So I had to work on the brick kiln. However, since last three years, Upendar dada/PAIRVI gave us seeds of Mandua, Lotani and Arhar and encouraged us to do farming. Now I am proud to be a farmer. I do stitching also when I get some time. When we were children we saw mandua and Lotani too. But for many many years people have stopped its cultivation. But now, thanks to the support from the Benefit-sharing fund project and the reintroduction of oils and pulses no loinger cultivated in my village, we have rediscovered and are cultivating both, mandua and Lotani. I make Mandua cookies for my children and use oil of Lotani for cooking our meals. Mandua is very nutritious and Lotani too, is better than mustard oil we get in the market. Earlier, we had to buy oil, wheat and pulses from the market spending Rs. 500-600 every month. This expense has been halved since we started growing Mandua and Lotani. I use the money saved for education of my two children. The area cultivated with pulses, oilseeds and Mandua is now growing in our village. People have started growing Mandua after 15-20 years. We farmers get seeds from our community seed bank. Now we are growing our own seeds, and return it to the seed bank when we have the harvest. Some more people have become interested in growing pulses and mandua after seeing us.
What I grow sustains my family, but in future I want to take it to market to earn some money. But there are few problems that we face as marginal farmers. Rainfall is reducing. Thankfully Mandua and Lotani can be grown with less water. When there is no rainfall like this year, irrigation becomes expensive. We grow oilseeds but have to go to the city to get the oil extracted; if there is an oil mill in the village it will be very good. Vegetables too have become expensive and we keep asking for a vegetable nursery so that we can grow our own vegetables too. I hope that projects like the one I am participating with the Benefit-sharing Fund of the Treaty will continue to support farmers in my village and farmers around the world.
Thanks and Johar!